WHAT WE'RE ABOUT
We have NO staff vacancies currently at Broadsands, East Portlemouth or Bigbury on Sea.
We are looking for an Assistant Manager interested in a career with Venus. A full time year round position based at Broadsands with a great starting salary for a 5 day average working week. If interested please email Michael@venuscompany.co.uk .
Venus is a dynamic sustainable business committed to looking after the environment and all those who work with us - either as an employee or a supplier. We value passion, hard work, fun and team work. We want to work with those who care about the impact their lives have on others and the planet.
Our business is all about 'loving the beach'. Every single action has an impact and we strive to minimise the harmful effects, and maximise the positive effects, on our locality. We make most of our own products and cakes at Halwell kitchens to ensure we use only the finest quality and ethically sourced ingredients are used.
WHAT WE'RE LOOKING FOR
First of all, you need to care what happens to our planet! Next, to love working in a team in a fast paced and friendly workplace. You need to enjoy the amazing buzz from the team working like a well oiled clock - each part working in unison.
We also look for those who want to make a difference. And for those who care about what they eat and where it comes from.
Above all you need to love people. To care for each and every customer as well as those in your team.
WHAT YOU'LL GET
We recognise the challenges that hospitality presents. So our schedules are flexible and split shifts are non-existent. A life work balance is important and this means different things to different people.
Our pay rates will reward those who show an aptitude for all the jobs in the cafe. Our philosophy is to share our rewards with the Venus team - the Ohana (Hawaiian for family). Summer is our busiest time of the year and those who commit to that period with us will be recognised.
We offer a 5 day 45 hour week for full timers and also part time work to suit. Free meals while on duty and 50% discount when not working.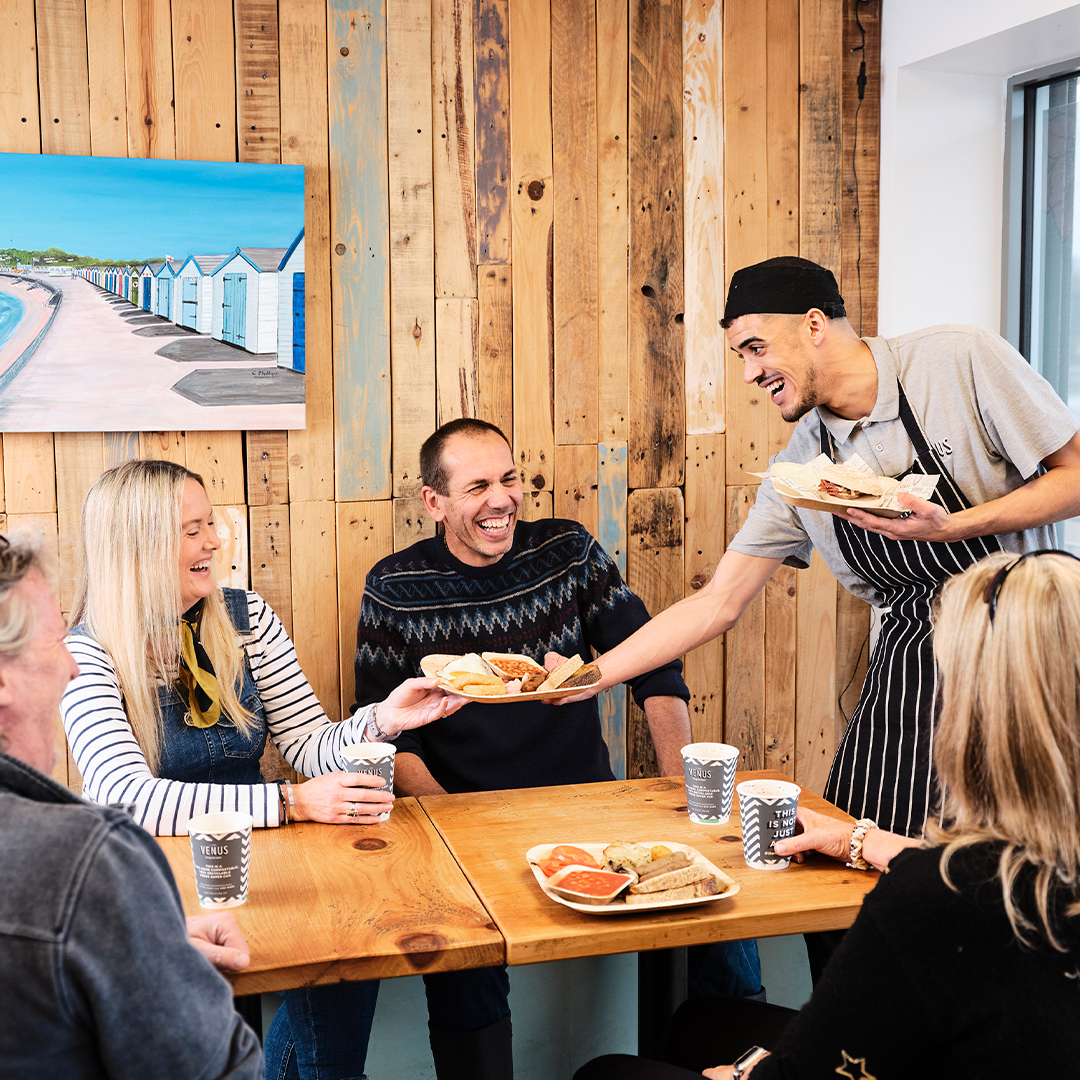 Our hourly rates of pay FROM APRIL 1st 2023 are:
| | |
| --- | --- |
| UNDER 16 | £5.00 |
| 16/17 year olds | £6.00 |
| 18-20 year olds | £8.36+ |
| 21-22 year olds | £10.42+ |
| 23+ | £10.42+ |
WHAT YOU'LL BE PAID
At Venus we are great believers in sharing the rewards of working in an award winning business. We recognise that people are our most important resource.
Bonuses are available from time to time..
Our starting rates of pay are HIGHER than minimum wage for those in the younger age brackets. We know that age is no barrier and we will reward those who shine in the role and do not restrict pay to age. If you are doing a great job we will recognise that.
We provide free uniform & meals while on duty (and we do pay holiday pay) and offer 50% discount on the hire of watersports equipment at Broadsands and food discounts while off duty.
APPLY NOW
WE ARE LOOKING FOR 1 FULL TIME (WITH CAREER PROGRESSION) PERSON INTERESTED IN MANAGEMENT