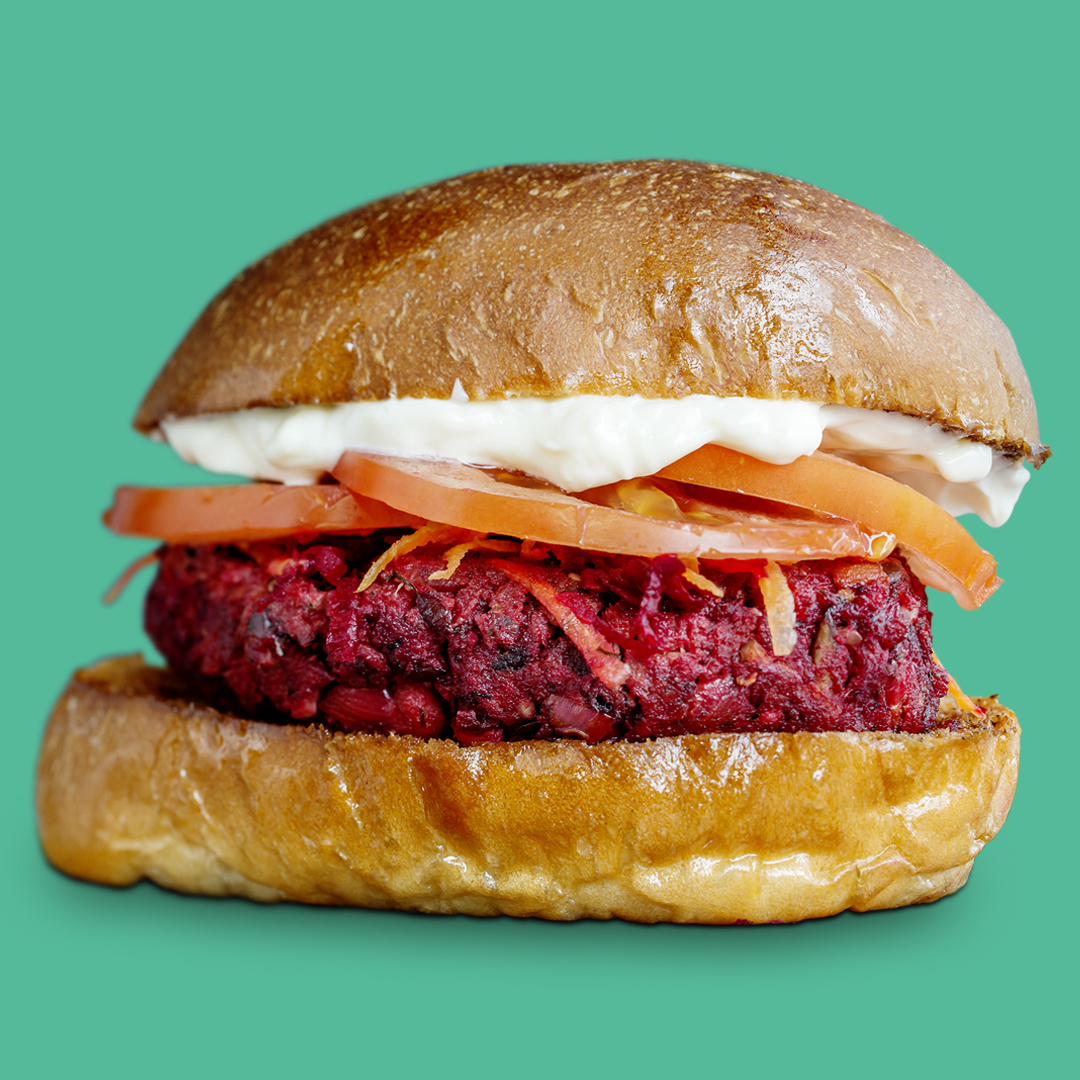 The famous hand made Venus Tofu burger. Made in Venus kitchens with Organic Devon tofu, beetroot, garlic, ginger, carrot, organic wholemeal bread, red onion, tahini, herbs, olive oil and seeds with vine tomato & vegan mayo in a floured bap.
Ave Net weight: 332 gr 1 Portion: 1067 kcal
ALLERGENS: SOYA, WHEAT, SESAME, BARLEY, OATS, RYE, CELERY
FLOURED BAP: white WHEAT flour (calcium carbonate, niacin, iron, thiamin), water, palm fat, sugar, salt
VENUS HAND MADE TOFU BURGER: Organic Devon Tofu (31%) (water, SOYA bean, Nigari (magnesium chloride)); Devon Beetroot, Carrot, Red Onion, ORGANIC WHOLEMEAL BREAD: organic wholemeal WHEAT flour, white WHEAT flour (with added calcium carbonate, iron, niacin and thiamin), water, palm fat, yeast, and salt); Tahini (SESAME), Olive Oil, DARK SOYA SAUCE: (water, salt, colour (plain caramel), sugar, defatted SOYA beans (10%), WHEAT); Garlic. GINGER PASTE: Ginger (81%), Sunflower Oil, Water, Cornflour, Citric Acid, Sugar, Salt; SEEDS: SESAME, brown linseed, Sunflower; MARMITE (BARLEY, WHEAT, OATS, RYE, CELERY) Salt, vegetable juice concentrate, Vitamins Thiamin Ro=iboflavin Niacin Vitamni B12 Folic Acid, Natural Flavourings, SPICES: Oregano, Dill, Basil
VEGAN MAYONNAISE: Rapeseed Oil, Water, Sugar, Spirit Vinegar, Salt, Modified Waxy Maize Starch, Stabiliser (Xanthan Gum), Flavouring, Colour: Carotene, Antioxidant: Calcium Disodium (EDTA).
VINE TOMATO.