ORGANIC THICK SLICED SOURDOUGH TOAST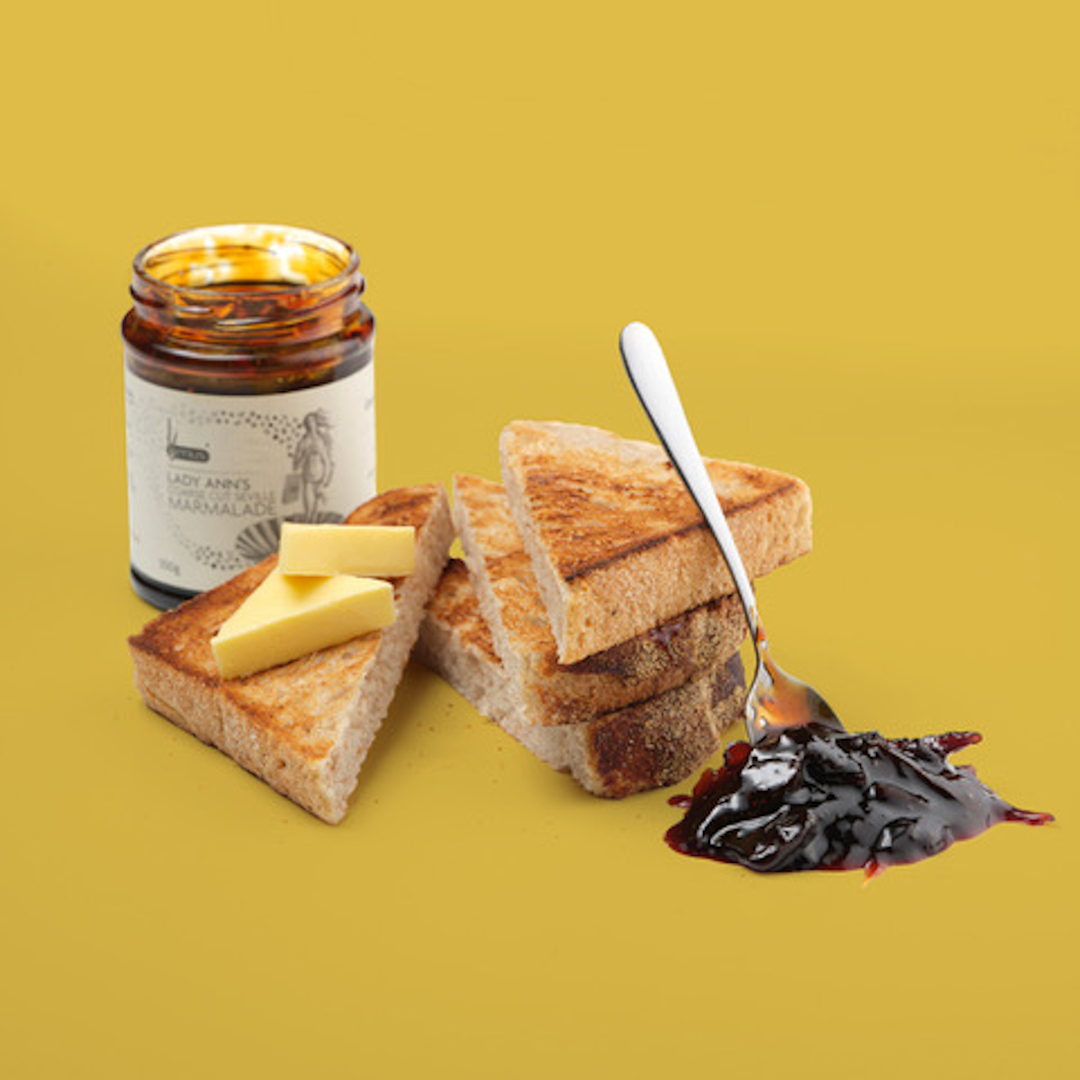 2 Slices of thick cut ORGANIC Cornish sourdough toast with vegan spread or butter and your choice of thick cut Seville marmalade or Marmite (barley, wheat, oats, rye, celery) or Devon honey or Cornish strawberry jam.
BREAD ALLERGENS: WHEAT, RYE,
BUTTER ALLERGENS: BUTTER MARMITE ALLERGENS: CELERY, BARLEY, WHEAT, OATS, RYE
TOAST 2 slices Ave Net weight: 146 gr 1 Portion: 300 kcal
BUTTER: Ave net weight: 15 gr 1 portion: 112 kcal
VENUS SEVILLE MARMALADE: Ave net weight: 50gr 1 portion: 128 kcal
STRAWBERRY JAM: Ave net weight 70 gr 1 portion: 164 kcal
MARMITE: Ave net weight: 15gr 1 portion: 40 kcal
DEVON HONEY: Ave net weight 30 gr 1 Portion: 90 kcal
ORGANIC SOURDOUGH TOAST: WHEAT flour (WHEAT flour, calcium carbonate, iron, niacin, thiamin), water, sourdough RYE starter, (RYE flour, water),
wholemeal WHEAT flour, salt, organic semolina, organic improver.
WESTCOUNTRY BUTTER: BUTTER, salt
CORNISH STRAWBERRY JAM: sugar, strawberries (46%), gelling agent pectin, acidity regulator citric acid
MARMITE: yeast extract, (contains BARLEY, WHEAT, OATS, RYE) salt, vegetable juice concentrate , vitamins (thiamin, riboflavin,
niacin, vitamin B12, folic acid) natural flavouring (contains CELERY).
VENUS SEVILLE MARMALADE: Seville oranges (65%), Organic sugar, Dark Muscavado, Water, Lemon
DEVON HONEY: 100% Devon honey