WHOLE SARDINES LOCALLY CAUGHT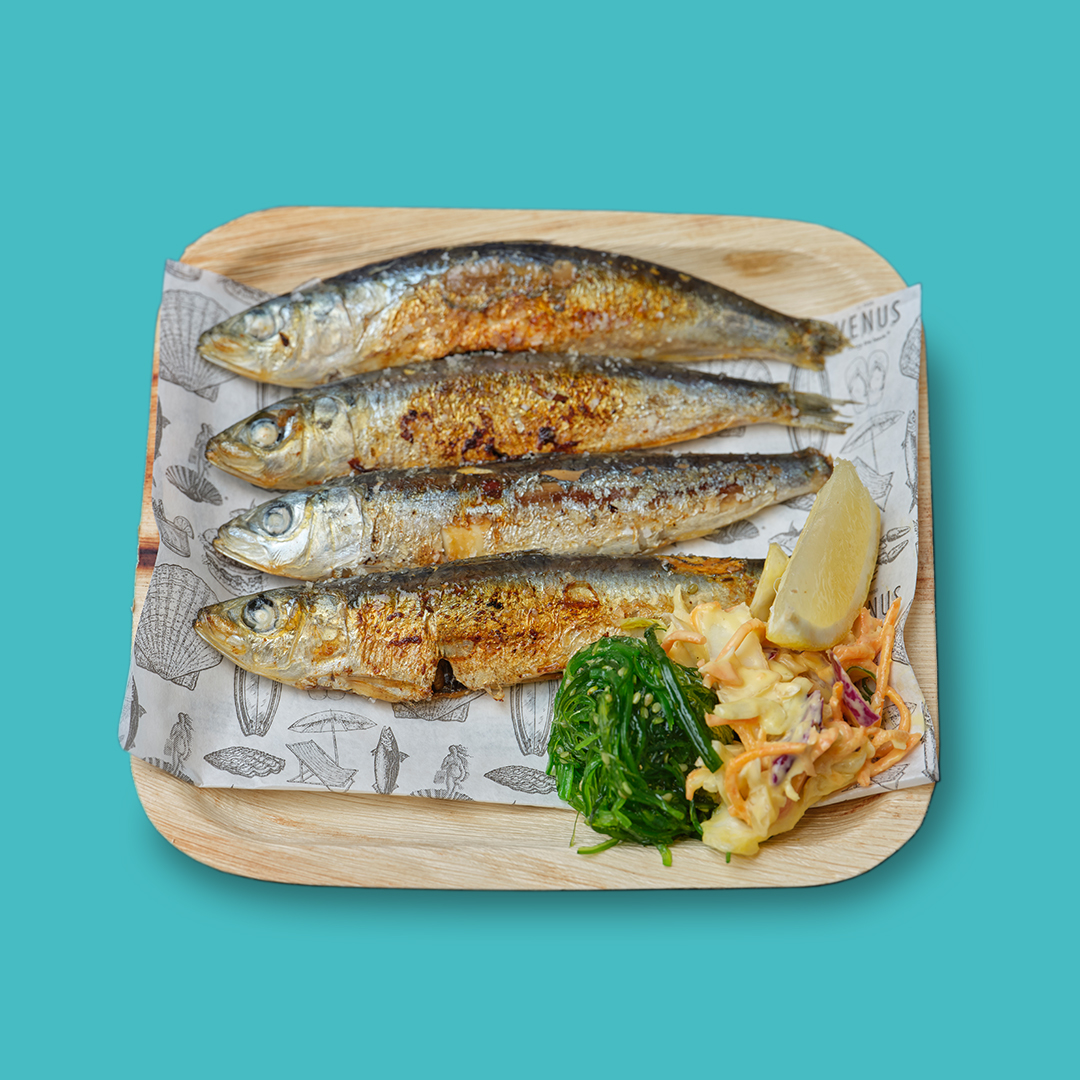 Locally caught sardines oven baked. Served with wakame salad (Japanese seaweed salad - sesame, soy, wheat), garlic mayonnaise slaw and either bubble & squeak or french fries. Drizzled with balsamic vinegar (sulphites) with a wedge of lemon on the side.
Ave net weight: kcal
ALLERGENS: FISH, SESAME, SOY, WHEAT, SULPHITES
LOCAL SARDINES: FISH, olive oil
BALSAMIC VINEGAR MODENA: cooked grape must, wine vinegar (SULPHITES)
GARLIC MAYO SLAW (17%): white & red cabbage, carrot, garlic, vegan mayonnaise – see ingredients below.
VEGAN MAYONNAISE: rapeseed oil, water, sugar, spirit vinegar, salt, modified waxy maize starch, stabiliser (xanthan gum), flavouring, colour: carotene, antioxidant: calcium disodium (EDTA).
BUBBLE & SQUEAK: potato, sunflower oil, garlic, rosemary, sea salt, ground black pepper, hispi cabbage
FRENCH FRIES McCAINS SURECRISP: English potato (91%); atter (modified potato starch, rice flour, pea dextrin, pea fibre, stabiliser ­­­Xanthan gum, pea protein); sunflower oil, salt.
WAKAME SALAD: seaweed (55%); SOY sauce (defatted SOYBEAN, WHEAT, salt, water), fructose corn syrup, agar-agar, sugar, SESAME oil, SESAME seed, salt, acidity regulator (E260), thickener (E415), red pepper, flavour enhancer (E635), colours (E133, E102)